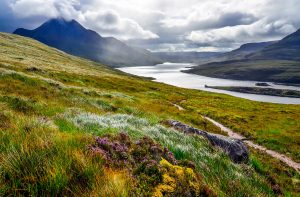 For the 2020 season we have six motorhomes for hire, 4 different models. Each is fitted with all the equipment you are likely to need for your tour. (Kitchenware, outside table and chairs, 4 bike carrier)
The Mini Mac is sleeps 2 people in a more compact motorhome. With an automatic gearbox and built in motorhome sat nav.
The Mackay and Munro motorhomes accommodate up to 6 people and are our dog friendly offering.
The Sutherland and Macleod motorhomes come with a choice of manual and automatic gearboxes, and sleep up to 4.
Why a motorhome and not a Campervan?
Motorhomes are larger vehicles, generally built on a long-wheel base. Our Motorhomes include kitchen and bathroom facilities, as well as other features typically found in a home (e.g. television, DVD player, Heating ).
Campervans are normally smaller than a Motorhome. There is generally no divide between the cab and the living quarters. Campervans usually have basic facilities for cooking, washing, and sleeping.
We like Motorhomes….
Click here for a timeline of how to hire a motorhome from Tartan Tourers.
The Mini Mac ( Auto Trail F60 )
The Auto-trail F60 is perfect for a couple wishing to explore in a more manoeuvrable machine. With an automatic gearbox full motorhome satnav, touring is made easier. The electric dropdown bed makes for optimum living space during the day. The large toilet and shower area. Built on the new EcoBlue Ford Transit camper specific chassis with an upgraded 170bhp engine. The Auto-Trail Tribute F60 comes in at only 5.99m and  sporting a sleek and aerodynamic low profile, with panoramic roof skylight, swivel front seats to the dinette and electric drop down double bed.
The Mackay and The Munro ( Zefiro 675)
The Rollerteam Zefiro 675 is excellent for families. This six berth hi-line motorhome offers a comfortable place to relax on holiday. For a fantastic night's sleep, the 675 includes three double beds, the rear being bunks. If you don't need all the beds, stow away the bottom bunk to create a large storage space ideal for bicycles and sports equipment. The large double dinette offers ample space for family meals when on tour. Bike carrier and TV with DVD also fitted
---
The Sutherland 685 ( Automatic & Manual  option)
The Rollerteam Zefiro 685 is an ideal motorhome for those who enjoy entertaining guests, the Zefiro 685 features a dining area that can seat four easily when using the swivel cab seats. The double drop down bed over the lounge can easily be stored away during the day, allowing you to make the most of the space. While storage under the two singles is accessible from both the inside and out; you're never short for storage space in the Zefiro 685. Bike carrier and TV with DVD also fitted
---
The Macleod 696 ( Automatic & Manual  option)
The Rollerteam Zefiro 696 offers extra luxury. Get the boutique hotel feeling in the Zefiro 696, with a rear island bed, bedside tables and two wardrobes making it the ultimate in luxury. This four berth motorhome also includes a drop down bed which is easy to stow away during the day, offering ultimate space for relaxing and entertaining. The popular L-shaped lounge creates seating for up to four people during the day, perfect for family meals and spending time together. Bike carrier and TV with DVD also fitted
---